With homes in Washington DC routinely getting 15 to 20 offers, how do you land your dream home and keep your sanity?
The real estate market in DC is a seller's market. In fact, only 1.9 months of supply was available in April 2016. This means that competition for homes is fierce and multiple bidding situations are the standard. So here are the top 3 moves to help you win a DC multiple offer scenario.
1. Being Prepared is 1 of the "Top 3 Moves to Help You Win a DC Multiple Offer Scenario"
The first part of being prepared is making sure your financials are in order. If you are taking out a loan you must get pre-approved for the loan. Pre-qualified is NOT pre-approved and the difference here is very important. When you are pre-approved you have run credit, made a full application, provided pay stubs, tax returns, bank statements, etc. This should include going through underwriting without a property. The only thing that your loan file will not have is the appraisal. Once you have contracted a property all you have to do is order the appraisal. This is an important step for a buyer in any situation, but it's even more critical if you're expecting a bidding war. In essence, this makes you a CASH buyer and strengthens your position.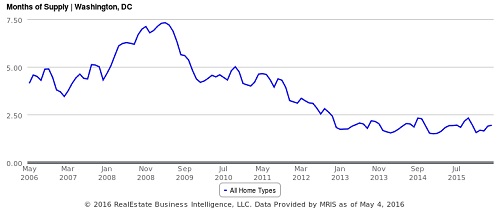 Often, the only information that a seller receives about your finances is a pre-approval letter from your lender. In Washington DC, there is also a financial information sheet you can share with the seller and the seller's agent. Ask your agent to share useful information about your financial situation — such as your length or type of employment, savings and retirement accounts or anything that gives the seller more insight into your ability to close the deal.
Study the current market for the home you are looking to buy. If you take some time to learn the market and know what to expect it will not be such a shock. Check comps and take a look to see if homes have sold for their list price or for more. How much more? What are the days on market? Are sellers using offer deadlines? Cedric Stewart of Entourage Residential Group says…
"Often times I call on homes that have just gone under contract and get as much info as I can about the terms of that deal. This fresh info gives me a feel for the NOW market. Sometimes the market is moving so fast that by the time a home closes the market has already moved."
If you are going to offer more than list price knowing the market can keep you from getting caught up in the emotions and paying to much, offer to pay what you think is a fair price based on the research you and your agent have done.
2. Clean offer is 2 of  "Top 3 Moves to Help You Win a DC Multiple Offer Scenario"
Price is not the only term that can make a deal more attractive. Drop unnecessary contingencies. If you are pre-approved you can make the decision to waive the financial contingency. Maybe you are willing to buy the property without an inspection. All of these are options but always talk to your agent first and decide if the reward outweighs the risk. Another good tactic is to be flexible with the closing. Depending on the sellers situation speeding up the closing may help and sometimes stretching it out can help. The point is to have your agent find out what is important to the seller, that way you are at an advantage. And finally, make a really big earnest money deposit. Show the seller that you are serious by making the EMD equal to your down payment or more. There is risk involved with this so before you finalize a number you need to talk with both your lender and real estate agent and make sure this is done properly.
3. Get personal is 3 of  "Top 3 Moves to Help You Win a DC Multiple Offer Scenario"
Write a personal letter. Tell them about yourself and why you fell in love with their house. Compliment the house and let them know that you are going to care for it as much as they do. It won't always matter, but sometimes a personal touch can mean more than having the highest bid. Jordan Murray of Entourage Residential Group says…
"I have been a big fan of the personal letter for years, In fact, I encourage my clients to include pictures of themselves, kids, animals whatever they can to personalize the offer. It is much harder for a seller to say no to a person than it is to say no to a piece of paper."
Stay in contact with your real estate agent. He or she will guide you through the stressful offer process. Make sure that you find someone who has experience in multiple-offer situations. You must trust their judgment and take action on their advice. Your agent should always be willing to explain things to you clearly, every step of the way.
The "Top 3 Moves to Help You Win a DC Multiple Offer Scenario" is meant as a guide to get you going in the right direction. Every real estate sale is different and having a professional real estate agent at your side is critical to your success in the Washington DC market. You may not win your first offer but keep your head up. Your agent is there to support you and help you find the right home.
Want To Learn More?

Chat with Cedric!